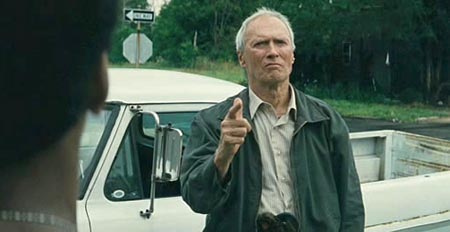 A Still from the film
Gran Torino
.
I just don't really feel like posting a food picture tonight. There's more to life than food, right?
We saw
Gran Torino
this passed weekend. We both enjoyed it. There are plenty of flaws in the picture. But there are far more reasons to recommend it than to knock it, in my opinion.
I hope you're all having a swell day. Please take good care of yourselves.
Wednesday - February 4, 2009
6:45 am
+ a cup of
instant coffee
with a few ounces of
low-fat milk
and a pinch of
pure stevia
8:00 am
+
a vanilla whey protein shake - (2 scoops of natural vanilla whey protein powder, 4 oz of heavy cream & 2 packets of

Also Salt

, 1 packet of stevia + FOS)
1:30 pm
+ a strong cup of
white tea
(3 tea bags)
2:45 pm
+ thick sliced
natural salami
+ an organic avocado
+ 2 organic Roma tomatoes, topped with organic sour cream and raw goat cheese
+ a glass of
organic red wine
5:45 pm
+ a strong cup of
white tea
(3 tea bags)
8:15 pm
(pictured yesterday)
+ oven-roasted pork shoulder with blackened onions
+ 1/2 cup of homemade mashed cauliflower
11:15 pm
+ a cup of
organic chamomile and lavender tea
(two tea bags)
More to come ... I hope.